"The most unique gift I've ever been given, truly beautiful."
GIVE THE STARS TO A LOVED ONE
IT WAS WRITTEN IN THE STARS
Celebrate the date with a personalised starmap, handcrafted to show how the heavens looked on that special day or night
A NEW ARRIVAL, NEW HOUSE, SPECIAL BIRTHDAY, ANNIVERSARY, WEDDING DAY OR THE TIME WHEN EVERYTHING CHANGED FOREVER; STARMAPS ARE AN ELEGANT AND THOUGHTFUL GIFT FOR ANYONE.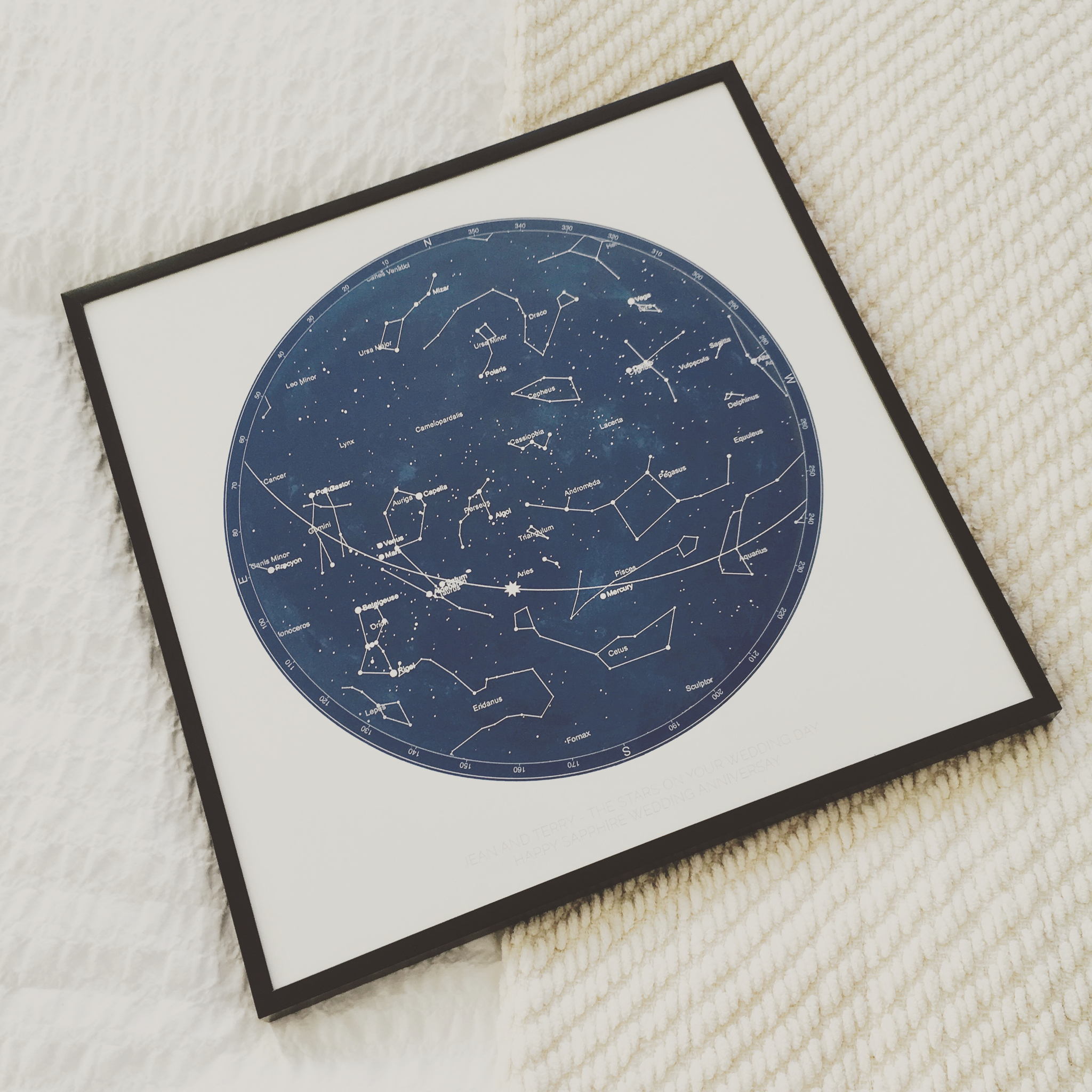 Each map is lovingly handmade using historically accurate astronomical data for a snapshot of the stars on a specific date past or future!
The location is key to generating the night sky at that time whether you're in the Northern or Southern hemisphere!
You have the option of a digital download that you'll print yourself or choose from three sizes and I'll print and post the finished map direct to you.
As an artist, I'm fanatical about detail. All maps are printed on white fine art 300gsm paper using the giclee process. You have my personal guarantee that your map will be in perfect condition.
from £24.99
Delight lovers of all things beautiful. Picturing the stars and constellations in the sky above your special event at the exact time and place in the world future or past. Printed on 320 gram fine art paper the quality of the antique blue ink is like velvet.
Handy if your gift needs to be ready super quick. Once you order I'll send you a confirmation and get to work on finding your stars to handcraft your personal starmap, which will arrive by email within 24 hours or before.
Give your loved one the pleasure of creating their own starmaps with a gift card, redeemable against prints, sets or digital maps.
Valid for 1 year after purchase.
Create a set of maps
for your family or friends...
each family member's birthday
a set of special events: births weddings and anniversaries
Starmaps by Sarah on Instagram